Something we have wanted to do for a long time is apply for a brand channel on Giphy. We wanted to be able to use our own illustrations on our Instagram Stories, but like most things in small business it just got pushed to the side. Here is a run down of how we applied for a Giphy account, some tips for making gifs and our experience of having a Giphy brand account so far.



What was the application process for Giphy like?
It was really straight forward. Giphy had really clear information on what you needed before starting the application process.
What does a Giphy Brand account do?
When you have a brand account your gifs are searchable in Instagram stories and reels. Giphy also partner with other apps as well. Videoshop is a video editing app I use and you can add the Giphy gif stickers there as well.



Did you need to do anything before applying to Giphy?
You need to have a minimum of 5 gifs already uploaded to your account and I only had one, which was a few years old and wasn't great. So I created 5 new ones. They have other requirements as well, such as your email needs to match your domain and your giphy user name needs to match your brand name. You can see the full list of requirements here.



How long did it take before you were approved for a Giphy Brand account?
4 days. We sent the application through on a Saturday and it was approved the following Tuesday. They sent an email once our account was approved and from what I've read it can often take around 7 days.





What happened once you were approved?
Well, this is the exciting part. I decided to check which gifs were trending on Instagram and saw one of mine on there. My jaw hit the floor when I saw it sitting with a bunch of other gifs. Over a 24 hour period it had 50 million views. WHAT THE WHAT? It's pretty wild because nobody knows the drawing belongs to me, but loads of people saw a dorky blue cat I created. The gif is above and it's pretty simple and nothing fancy at all, but there is something about the way the wrist flicks that just works, and I did not mean for that to happen. It was a fluke!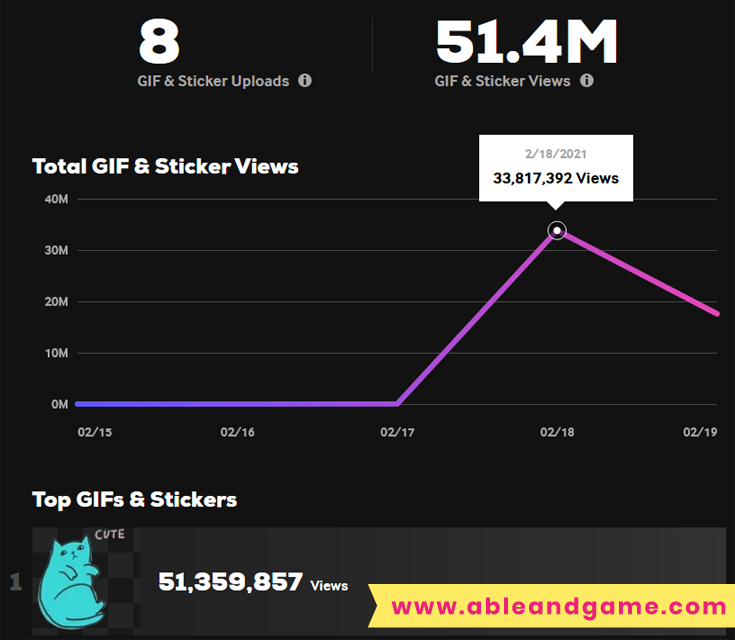 How do you make your gifs?
I started in Photoshop as they have an animate feature where every layer is a frame, but I found the ones I made were pixilated once uploaded onto Giphy. I then started using Procreate on the iPad, and it was much more fun to draw in real time, rather than use already drawn elements like I did in Photoshop. You can draw in Photoshop but I don't find my drawings look good when I do. You can also make a bunch of drawings then stitch them together in a video editing app like Videoshop or one of the countless apps used to create gifs. If none of these methods feel like they will suit you, have a look on Youtube for tutorials for one that is right.

How can I use Able And Game gifs?

You can see all our gifs
here on our account
. If you're using them on Instagram you need to search @ableandgame in the gif section and remember to put the @ in there. If you do use them in your Instagram Stories please tag us (you can make the tag super small so it doesn't ruin the aesthetic, but we can still see it).
Do you have any gifs of your cat?
We sure do, I made this one of our cat Bubsy giving a head bump. I did this one in Photoshop, after taking a few screenshots from a video of her giving me a head bump. The cat gifs on Instagram are some of my all time favourites and I use them a lot on Instagram Stories to give movement to static image posts.


What tips do you have for making gifs?
Keep them really simple. I don't think they need to do much to be magical. For text I like to write the text out, then for each frame write the text our again in almost the same place, so it kind of vibrates a bit. The words are really easy to understand but it still has movement.
How can I stick my own gifs into Instagram stories without a Giphy Brand account?
I'm not sure if this works, I've tested it and it worked for me but I find every account and phone behaves differently. Open Instagram and start a story. Leave it open. Go to the giphy app, and find the gif you have made, then click the airplane icon to copy the gif. If you then go back to your Instagram Story it should open up with the pasted gif and you can click to add it to your story. I have not tested this before having the brand account, but I tried it with another gif on the site and it worked. Another way is to save the gif onto your phone photos, copy it, then open up an already started Instagram Story and it should come up with the box to click to paste it in (this works on my iphone).


What is your gif dream?
To create some fancy technology where we can print moving gifs onto paper for our greeting cards. Wouldn't that be amazing!
Hi, I'm Anna and I design fun and cute greeting cards that celebrate real life here at Able And Game.

Thanks for reading our blog post about our new gifs on Giphy, if you do ever use them in your Instagram Stories please tag us (you can make the tag super small so it doesn't ruin the aesthetic, but we can still see it).

Want to connect on social? You can find us on:
Instagram + Facebook + Pinterest.