Welcome to the Able And Game recap of Sunday Night Mystery Box/Invention test episode.
There are 8 contestants left now so things are feeling a little tight. After a week in the NT they are back on home turf and feeling a bit better about things, mainly because they get a bench to themselves.

Gary asks Ben if he thinks he can make the finals and Ben calls him GAZ. Gary says they've been around so long now they are familiar enough to call the judges Gaz. Gary thinks George and Matt are also called GAZ. He then says he doesn't mind, but surely if you didn't mind you wouldn't need to say you didn't mind because you'd be so comfortable with it that minding wouldn't even be on you mind.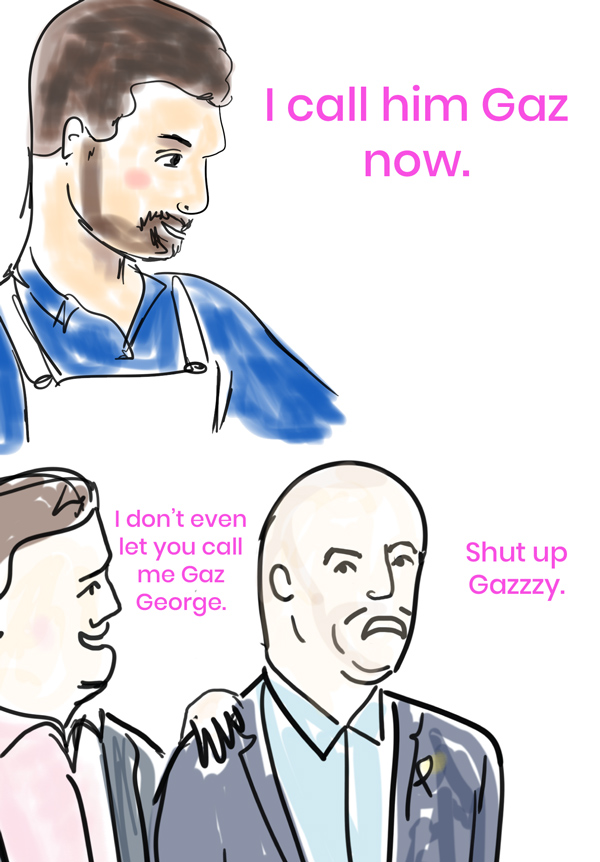 This week is going to be a little bit different. They will be cooking for their lives because a pantry monster has been let loose and will be eliminated on Thursday. The last person standing gets a special 10 year advantage that is A SUPER POWER!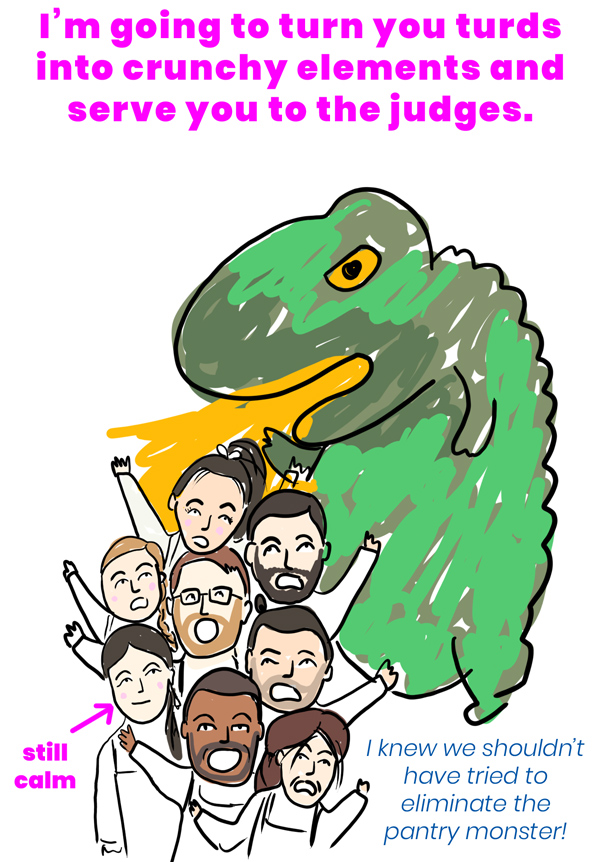 They open their mystery boxes and there are three plates and a smaller box. They now need to provide a meal each to the judges because sharing is the worst. The smaller box contains an ingredient they all need to hero in some way.

They get:
Reece: Vanilla (Yay!)
Sashi: Ginger (hello my old friend)
Samira: Miso (I'm excited even though I don't cook it with)
Jess: Porcini (what even is it?)
Khanh: Blackberry
Kristen: Macadamia Nuts
Ben: Peas
Chloe: Dates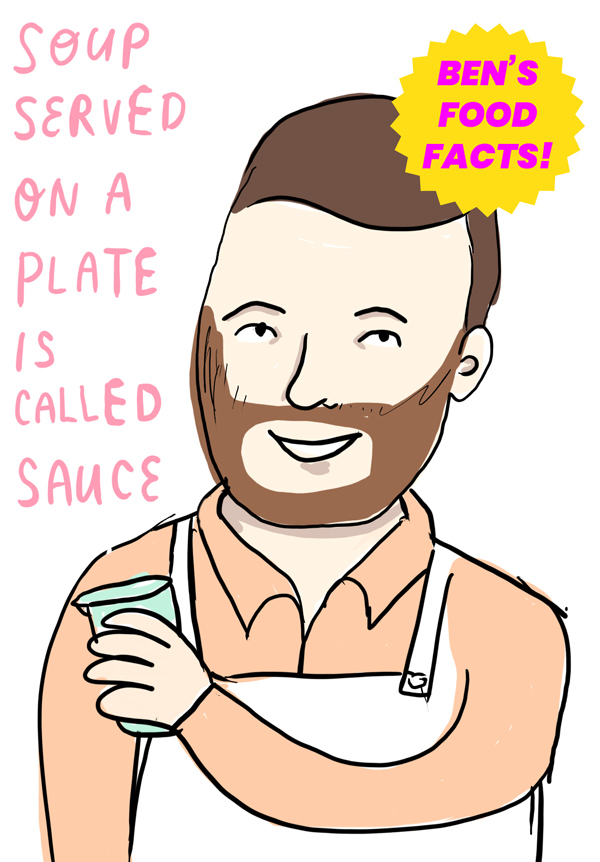 Ben is cooking a soup/sauce that is cold. And prawns and peas. The judges are confused because how can soup be served on a plate?

The judges have a chat to him and are clearly not impressed.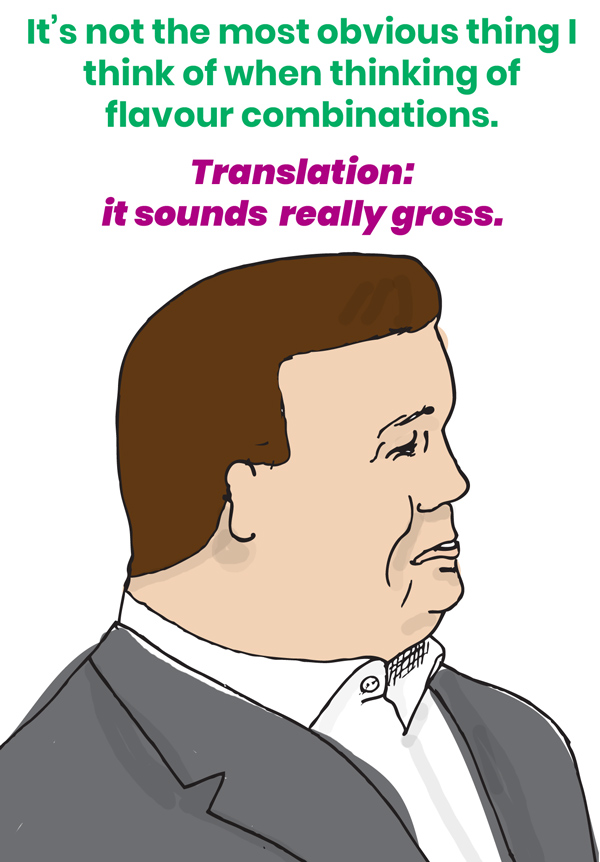 Jess makes a fancy porcini dessert. If this feels familiar it is because Arum did this last year and I found this drawing from above to prove it.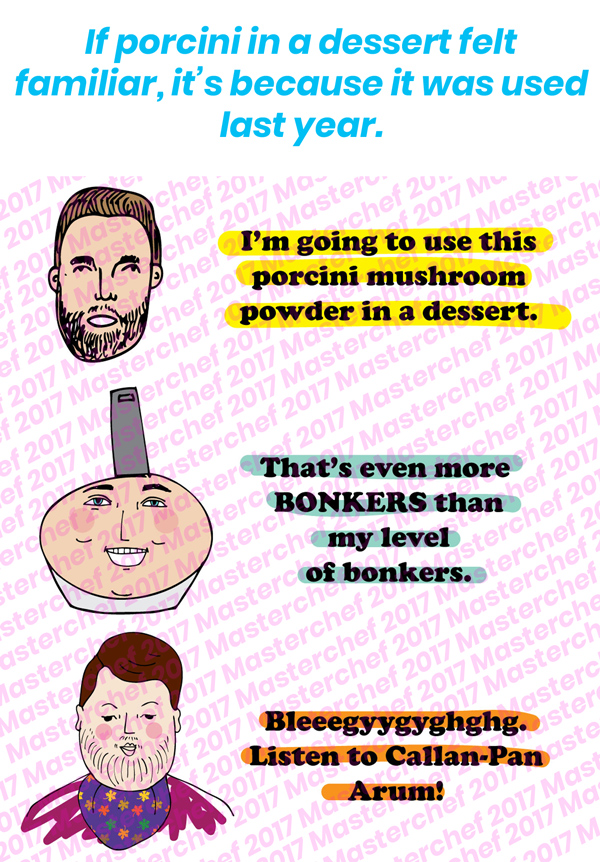 Tasting

Jess has made an amazing dessert using porcini and they praise it heavily.

Ben's prawn dish looks very sad. He could have done so much, like called Gary GAZZA-BEAR but he just plonked raw peas on a plate with prawns and what looks like a celery milk sauce soup slop.

Kristen has made oversized crackers that hang off the plate.
Samira makes miso carrots and Matt loves them.

Reece's smoked vanilla ice cream is good.

Chloe's duck didn't rest long enough, but then it is doing this confusing thing where it is too rested in the middle. Or something. Meat is weird.

Sashi didn't serve his in a banana leavebecause it wasn't looking uniform enough. They tell him to be more authentic.

Khanh's lamb is delicious.
Ben's dish was the worst and is sent to the gantry. He needs to wait here until the monster elimination on Thursday.
Invention Test

In this challenge they need to hero something they all use all the time.
Salt, pepper and oil!
They get to choose what they want to use, and have an open pantry and garden.
Reece: Pepper
Sashi: Oil
Samira: Pepper
Jess: Pepper
Khanh: Salt
Kristen: Oil
Chloe: Oil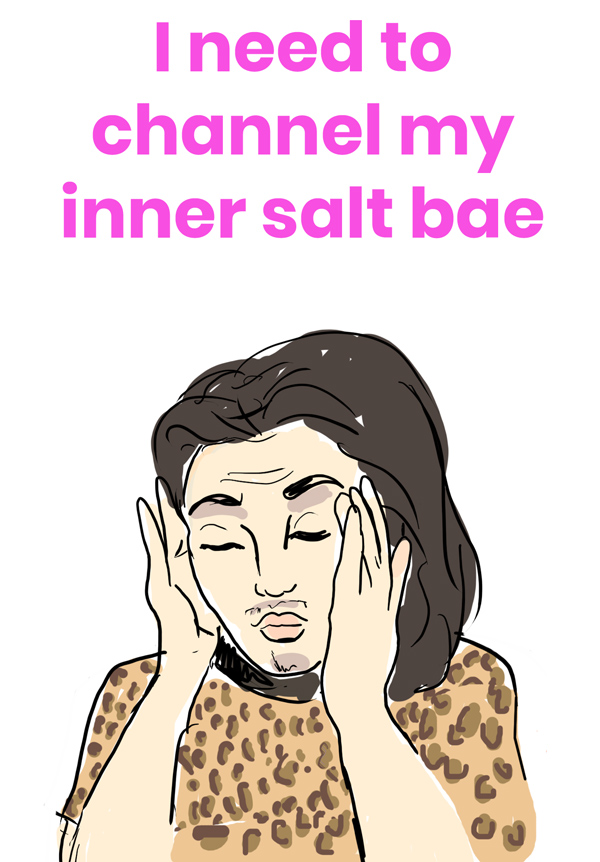 They judges question Sashi on his choice of oil. Surely he should have chosen pepper? Surely this is a key ingredient in sambal? Sashi tells them no, oil is the hero. They feel he is wrong but walk off leaving him to make his own mistakes.
Tasting
Jess made pork wontons and this is her savoury dish they've been waiting. Weirdly it wasn't her lemon chicken. She's made 5 wontons and the judges comment on this being problematic.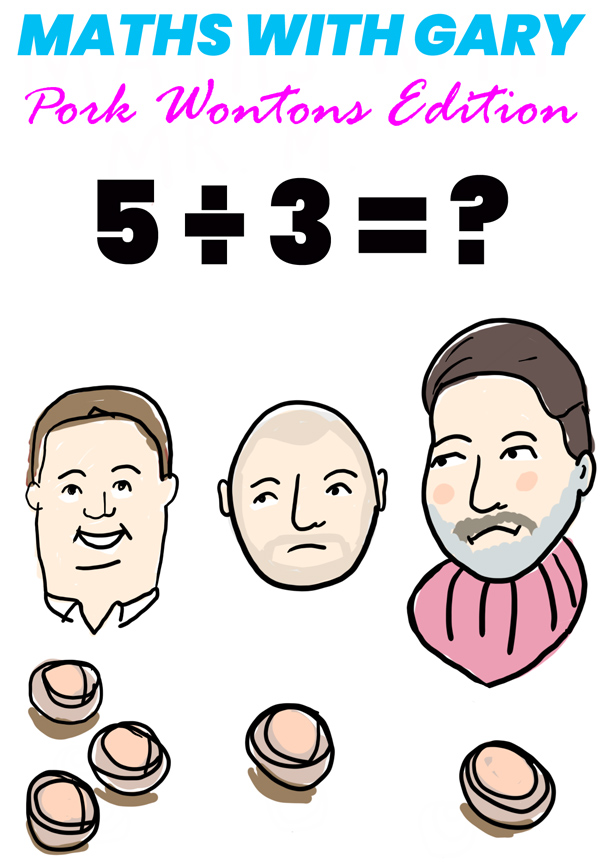 Chloe does a confit salmon with a tomato tea and unlike Sarah's tomato tea they commend it. This is because she used a teapot.

Khanh's lamb is crap because although it looks good it isn't delicious.

Kristen's dish has delicious elements, but they are just elements. There is no crunchy elements. If Masterchef was a religion, one of the commandments would be ONE MUST HAVE A CRUNCHY ELEMENTS.
Reece made basil ice cream with strawberries and its wickedly awesome.
Samira's dish was great.
Sashi's dish, despite the crunchy beans. is good.



Khanh and Kristen are bottom two and although their dishes were not disasters they had problems.
Kristen's too creamy/not crunchy dessert is deemed the worst and she joins Ben in Monster Elimination on Thursday.