Welcome to the Able And Game Masterchef Recap for last night's episode. Episode 25 was the No Mystery But Instead Tractor Challenge and Team Night Market Challenge.

Welcome to South Australia Week.  It's just like Gordon week but with less swearing and more old fashioned tractors.

Sashi is excited, HOME TOWN LAD!

The contestants are doing their interviews in a different space than usual. It looks like a hotel room and has a real Today Tonight interview vibe. Will one contestants face be blurred out when they give their interview? Only time will tell.

They enter the kitchen and it is in the middle of Victoria Square in Adelaide. Khanh has noticed there are no mystery boxes and no pantry. He has not made mention of the lack of shade, in Adelaide, in Summer. He is excited to know what the judges have in store, other than possible heatstroke.
Gary is in jeans! South Australia week is like the casual Friday of the Masterchef calendar for Gary. George and Matt are in their usual attire.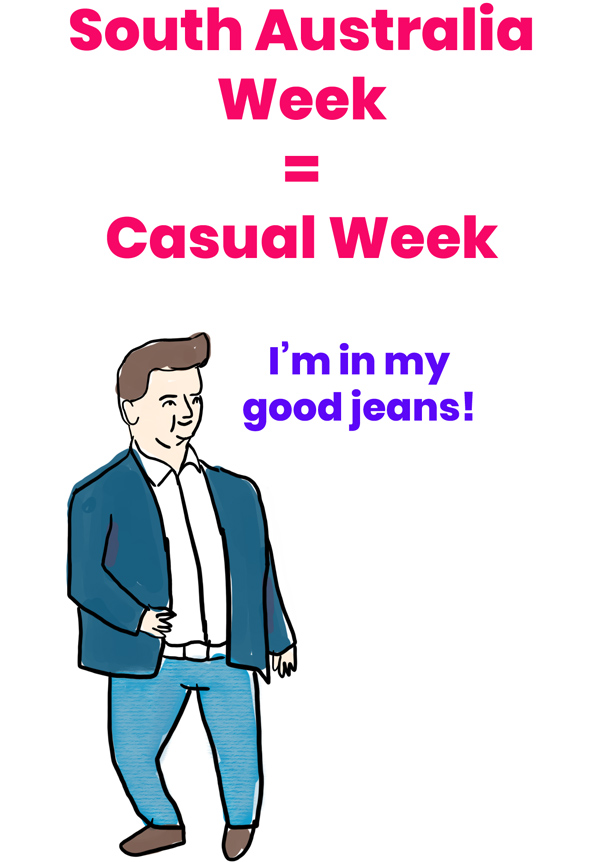 Gary introduces South Australia and mentions a few restaurants he likes, then gets excited about wineries. Also, some of the big Masterchef successes have come from South Australia:
Adam Liaw (I have one of his cook books and it is good)
Poh (basically the best)
Andre (didn't watch that season)
Laura (read above)
Callum (Adam beat him)
Rose (I did see her season)
Marion (you can buy her stuff in the supermarket)
(and the list keeps going on an on so if Gary didn't mention you then blame the jeans)

Cute tractors arrive full of produce and the Masterchef producers have asked them to pretend the tractors are Maggie Beer.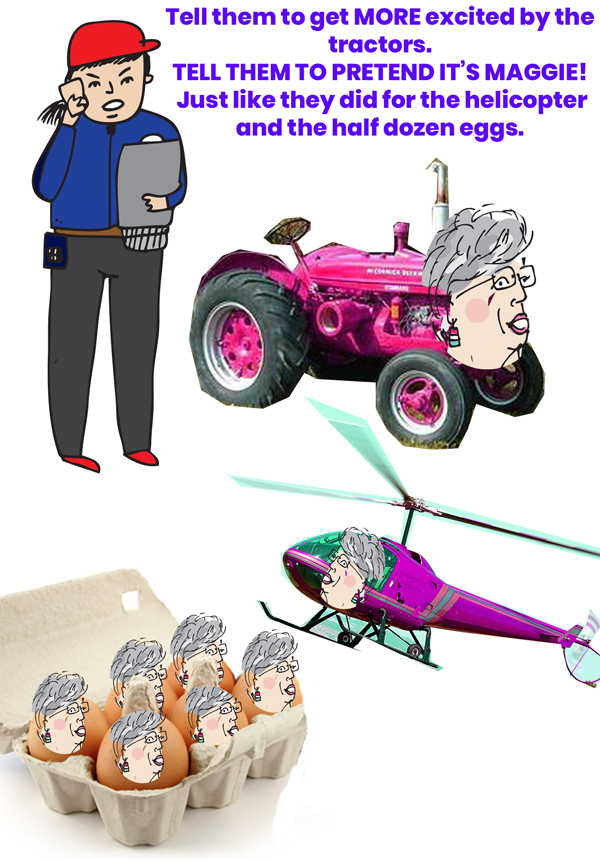 In the tractors there are figs, cheese, apples, snapper and farmers looking awkward either about being on TV or being in the big smoke.

They get to use anything that the tractors wheeled in, plus the basic pantry staples and they have 60 minutes. The judges are only tasting the 5 most appealing dishes.

Gary tells them as he does every Sunday: "win this and you go straight through to the immunity challenge on Tuesday night."

Khanh is making Saltbush roo with quandong, plum and lamb jus. Khanh has not been tasted and he wants to be tasted. Editing like this tells us you'll be tasted Khanh!

Jess is doing sweets, because duh. Jess is having issues with her pastry because it is so hot. She needs to get it into the blast chiller.

Genene, who we have not seen in a few episodes, is also making pastry for a goat's cheese tart.

Ben is making crayfish fettucine.

Sarah is making kangaroo, with a goat's mousse and pumpkin bark.
George tells her his mouth feels dry when she says BARK. He knows it's cool and there are some cool chefs doing some cool things with bark but obviously he isn't one of them. Sarah tries to counter by telling the judges there will be moisture with the bark. Will the moisture be sap. Sadly no, it will be a jus, but this will make the bark more appealing.
Off camera Gary asks George what bark is, and if he qualifies as a "cool chef"?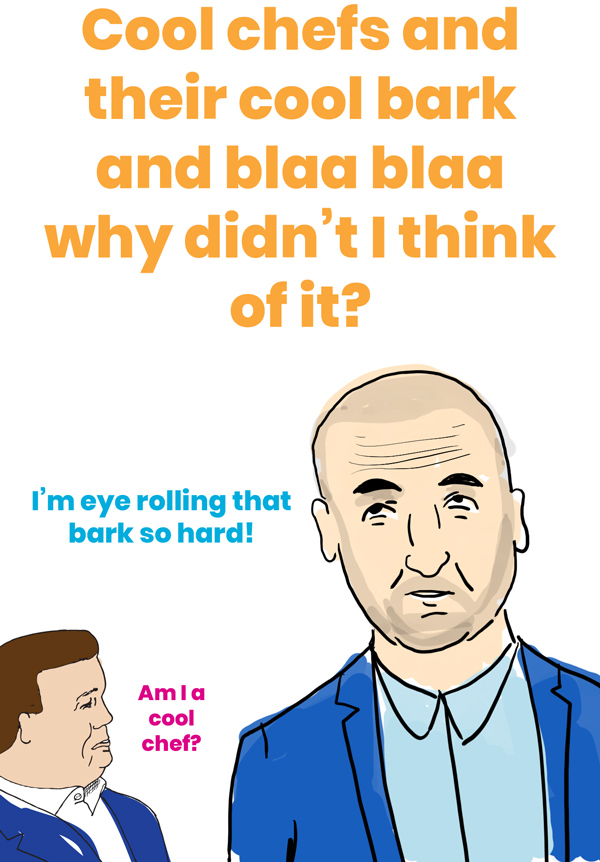 Sarah finally tells us what pumpkin bark is. It's burnt pumpkin.

Sashi is doing something with fish.

Jess is happy with her blast chilled pastry.

Genene is having problems with hers. She, unlike Jess, didn't put hers in the mould first.



TASTING

Genene
Goat's cheese and fig tart

George tells Genene to have some. I mean, she cooked it why not actually taste it?
Gary says the textures are delicious.

Jess
Apple Flower Tart
The base is too thick and the balance is off. But geez it looks spectacular.

Sashi
Snapper with parsnip puree, mushrooms and fish jus
Gary says the puree looks GREAT.
Matt says it too wintery a dish for a warm day like today. Gary says he has no problem with the dish on a warm day.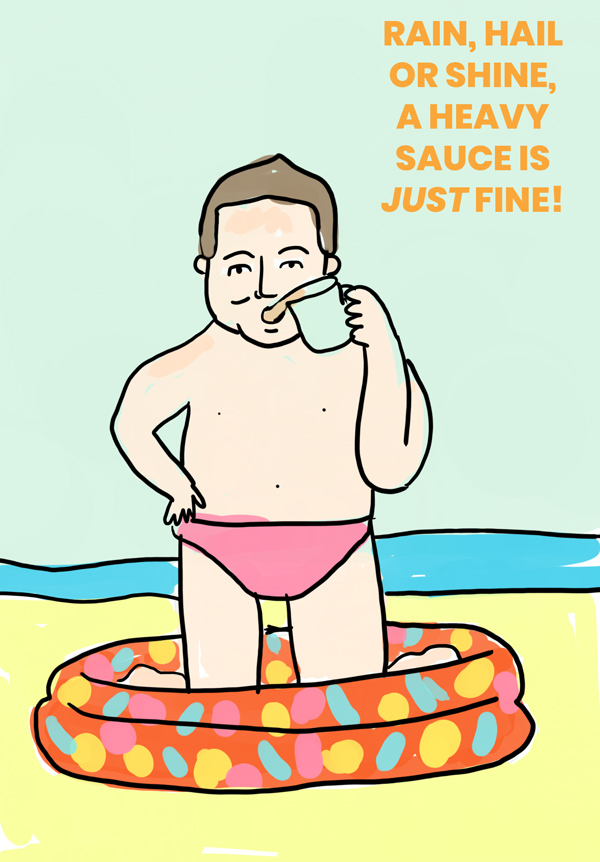 Sarah
Kangaroo Pumpkin Bark
It's a lovely plate of food. She has championed the roo.

Khahn (with DJ reference from George, with a spinning records action, not laptop action)
Saltbush rolled roo, guandong, plum and lamb jus
Gary loves it! The sauce is good. George is SO HAPPY FOR HIM. This is at the standard they expect.
Matt is surprised there were two good roo dishes, it is a roo battle!

Result: Khanh is the winner!


Next up they are creating Adelaide's first ever MASTERCHEF night market.

They are running 7 stalls, the contestants will compete in pairs:

Genene and Chloe
Jenny and Samira
Gina and Jess
Kristen and Aldo
Hoda and Ben
Reece and Sashi
Sarah and Lisa

Reece and Sashi is TEAM BLING BLING because they both have immunity pins.

They have 3 hours to prep and they need to sell:
1 savoury dish at $7.50
1 (or more) sweet dishes at $5.00

The top two teams will join Khanh in Tuesday Night's Immunity Pin. The top teams will be:
- the team that makes the most money
- the team that makes the most delicious food
 (no mention on what happens if this is the same team)

The two teams that give them the least impressive dishes are in tomorrows pressure test.

They are cooking for 500 people, and the aim to make the most money. Gary suggests they make at least 100 dishes of both savoury and sweet dishes.

The challenge starts!

The teams are planning and are chatting about what dishes they can get out FAST.

Genene says the pantry is like a plague of locusts are sweeping through.
Chloe has been inspired by the Curtis challenge and wants to MINCE MINCE MINCE!
Gary and George tell her the domestic mincers wont cope with her mincing needs. Chloe wonders why they don't have an industrial strength mincer because don't they know she wants to mince all day every day for ever?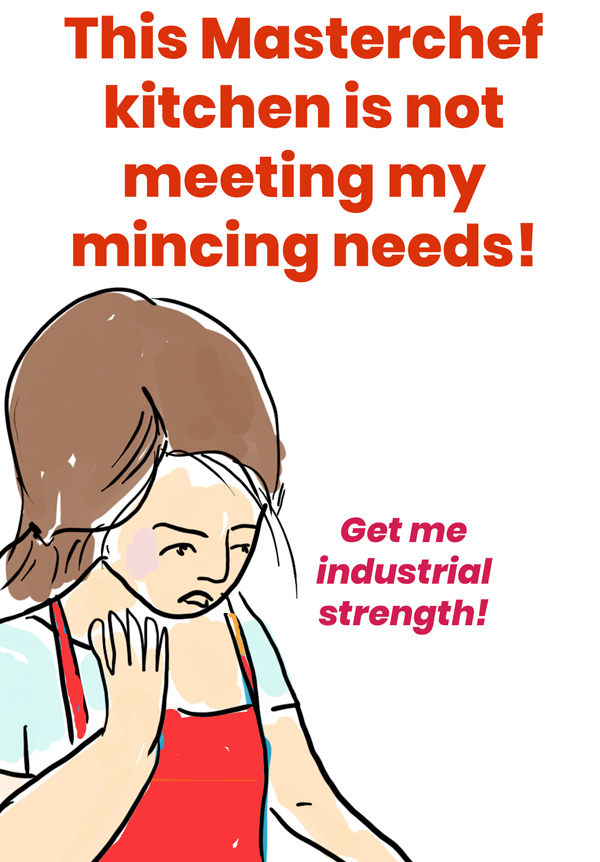 Sashi and Reece are making a southern stye Indian curry.

Sashi is having to break down at least 10 chickens to get 80-100g of chicken per serve. This kind of insight into his portion sizing makes us think this will be problematic.
Reece is making a donut with Indian flavours.

Kirsten and Aldo are doing roast lamb and strawberry mess.

Jess and Gina are making 300 donuts. SHIVER yells Jess, that is a lot of donuts.

Hoda and Ben are making kofta balls. They have packs of mince Chloe obviously missed.
Dessert is a milk set custard. Hoda's plan is MAKE ALL THE FOOD AND GET IT IN ALL THE PEOPLE'S MOUTHS!
Ben's plan is to do whatever Hoda tells him to.

Genene is feeling all the overwhelms and isn't having a good day in the kitchen. Before Genene can say FULL OVEN she realises the nectarines won't fit with the pork cooking in there, which they are now roasting because why wasn't Chloe provided with an industrial strength mincer?

Genene now needs to come up with a new sweet option and her brain starts to go to mush. She is not in her normal state of mind, walking around a makeshift pantry, holding 5 packs of white chocolate having a existential crisis. Chloe thinks this a good time to ask Genene to get her garlic.

Gary proves to be of little use in an existential crisis, he ask if it helps when she puts her palm on her forehead like that. Genene tells him it does, until he questions her on it, then it stops helping. It starts helping again when he stops talking and walks away.
Chloe says YEP or OK to anything anyone says. She doesn't seem concerned about Genene's crisis.





Jenny is EXCITED.
She and Samira are doing a mixed lamb grill with oven baked cauliflower
For sweets they are doing a deconstructed baklava cheesecake

Hoda and Ben are rolling kofta balls and Hoda has overtaken Ben and has rolled two trays of balls and Ben has not even finished one.
Hoda is worried they could be too dry because they are cooking them in the oven.

Matt tells Sashi he doesn't have enough curry.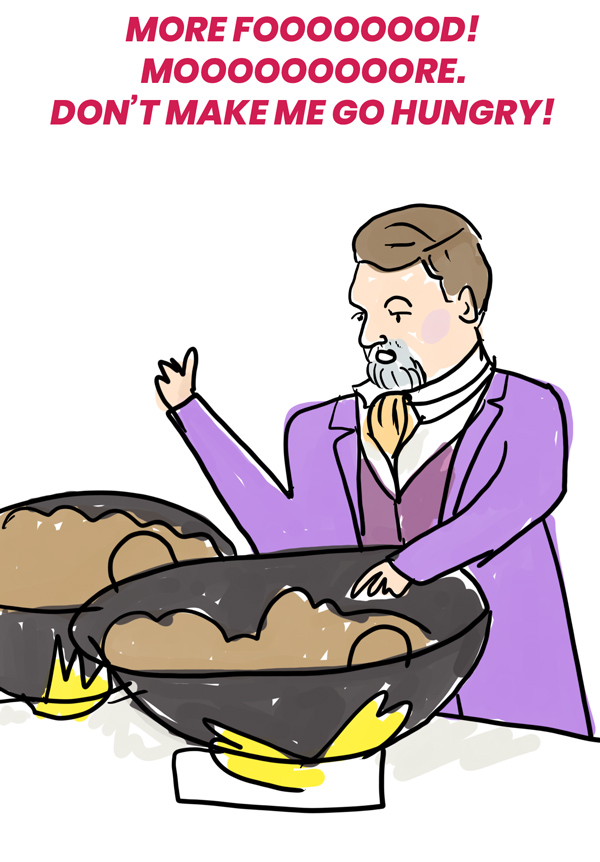 Sashi says he has cooked for big groups and knows it will be enough.

Ben is cutting the veg for the salad nice and chunky.

Jenny doesn't know how to spell Mediterranean. Kristen tells her she wrote it on her board and to check that. Kristen has it wrong.
Jenny bangs out her own version which is more wrong that Kristen's. She is glad they can cook because THEY CAN'T SPELL.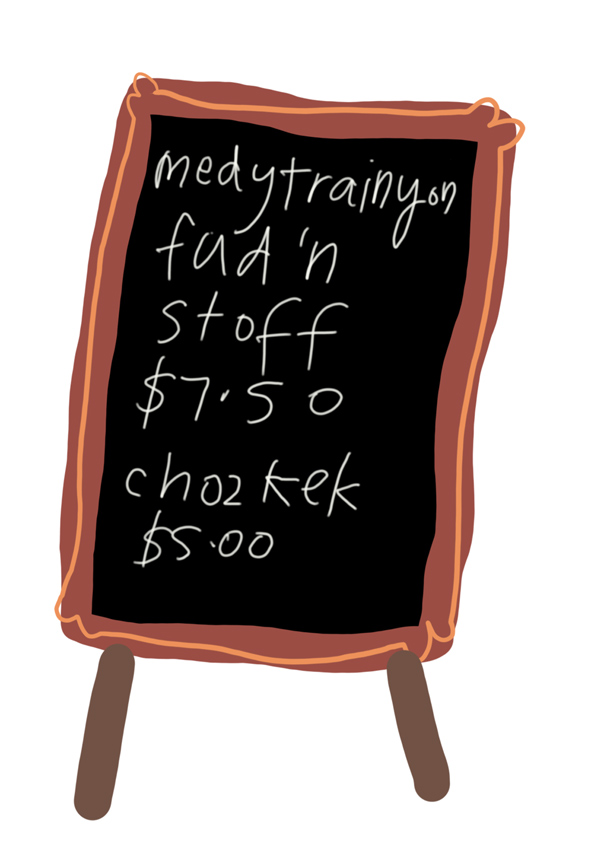 Genene is feeling overwhelmed, there is still a lot to do. Thankfully she has ticked exestenial crisis off the list.
Chloe and Genene said they don't care if it is not done, they just need to get it ON THE PLATE.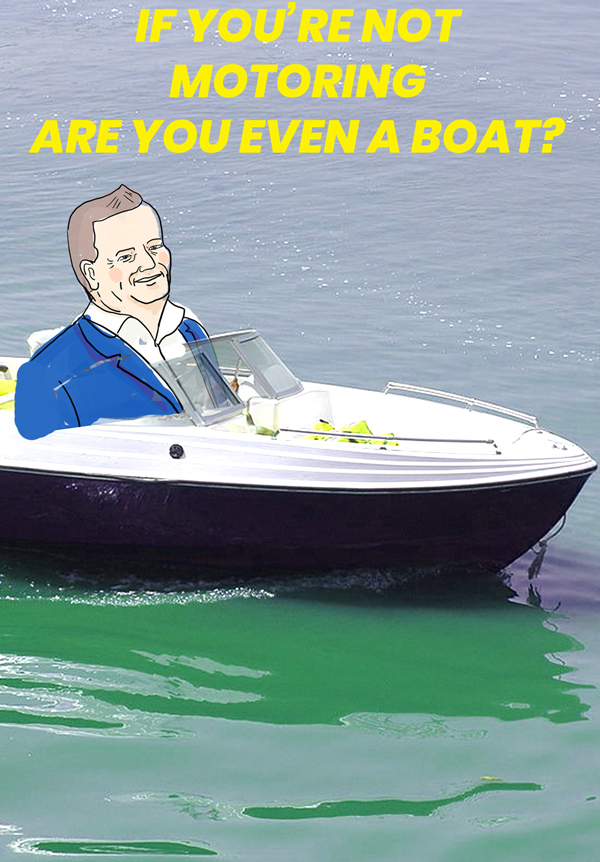 Hoda is worried they've overcooked the kofta balls.

Service starts, and the judges get tasting.

Sashi and Reece are having a fun time but Sashi is worried the curry is going to run out.

The Judges taste Reece and Sashi's dishes.
The judges think the curry is delicious.
Gary is very pleased and turns to the crowd of people standing around watching three men eat 14 dishes and says "we have a rubbish job don't we?"
with a big grin on his face.
A woman behind him looks like she whispers to a friend "sarcasm is the lowest form of wit."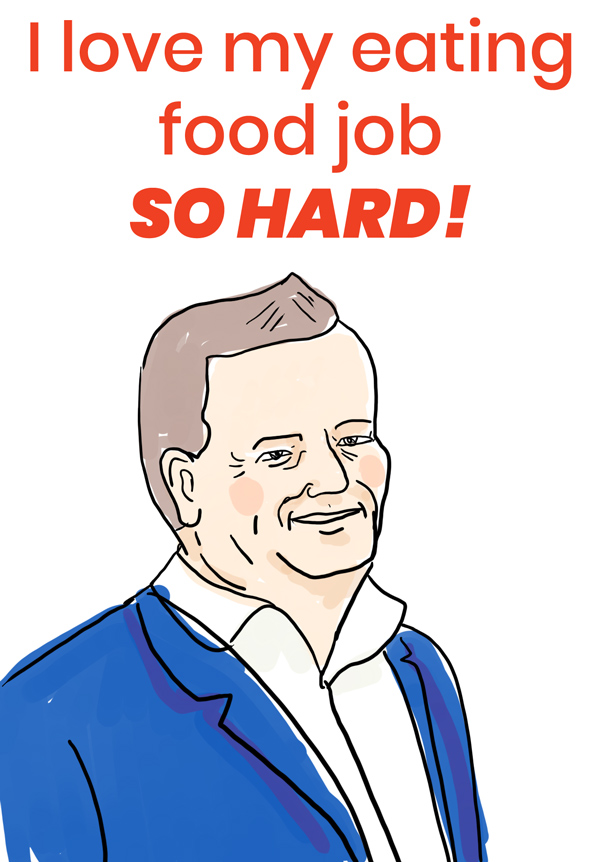 Gary says he is going back for seconds if he has time. Sure, there are 13 more dishes to eat, but why not eat more curry?
They are not impressed with the donut dessert and expected more from Reece

The judges love the look of Jenny and Samira's lamb dish.
Matt tells Gary what a spork is.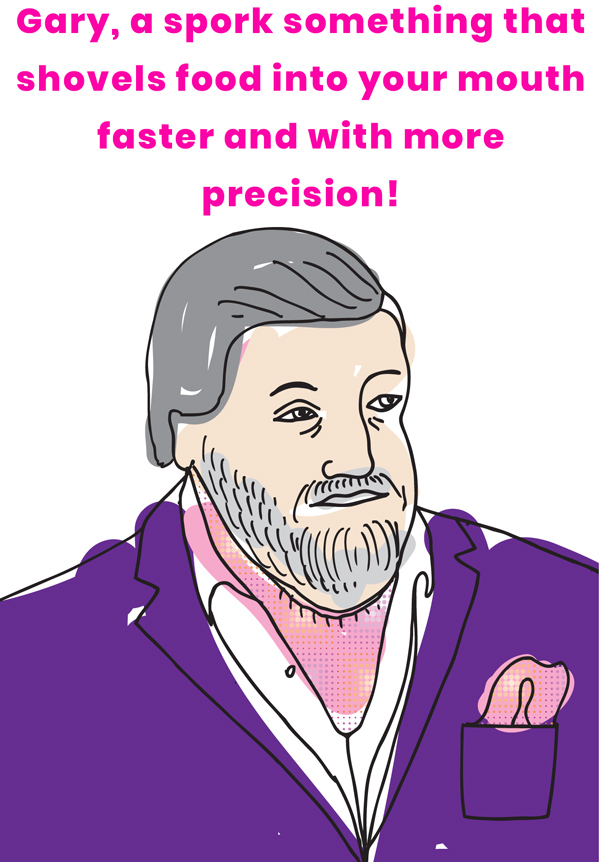 The judges are also very impressed with their cheesecake.

Genene is enjoying serving the customers after a stressful three hours.
The judges try Genene and Chloe's dishes.
George is underwhelmed by the sliders. Matt says the bun ain't banging.
Gary asks if they have saved themselves because they had some trouble, then tastes the food and says nope, this food tastes like existential crisis.
Matt uses the word SLUDGY.
It has no flavour.
There's just stuff.

There dessert of strawberries and cream is good but it is what it is, which is not a good dessert. Can it save them?

Sashi has run out of chicken curry, he is going to make up a dish to sell right now.
BANANA FRITTERS.
Will this cut into their donut sales?

Sarah and Lisa have had little airtime, so their beef skewers with chimichurri and dessert are going to be middle of the road.

Aldo and Kristen have pretty much sold out of lamb. The judges say MOIST when they eat it.

Gina and Jess have made honey chicken and donuts. The donuts could be better and George questions two deep fried dishes. Gary does not question two deep fried dishes.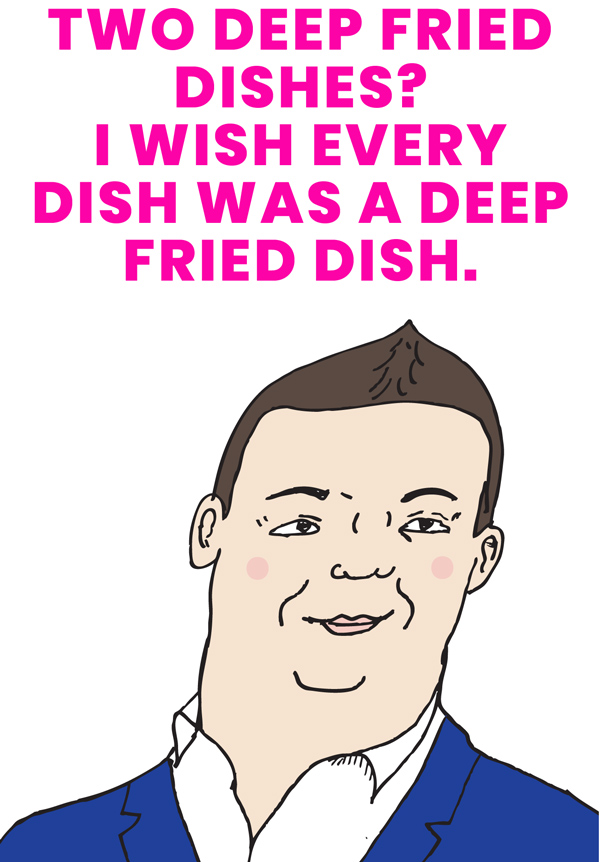 Hoda says the kofta is flying out. But then there is nobody left in the line. There is still 45 minutes left and they have loads of food. Ben is suddenly worried they have sacrificed quality for quantity.
The judges try the kofta balls and George struggles to get his spork through one. The salad is not exciting, it needs more lemon.
The milk set custard and berry compote dessert needed a crunchy element.

Ben goes out to get people to come eat their food and it doesn't work, they look at him like a loser screaming EAT OUR BALLLLLLZ. So they think of what they can make to appeal to this mass. NUTELLA PIZZA.
A few people come and eat it, but it is clear Hoda and Ben are going to loser town.

Everyone is frantic trying to sell their food to a crowd of people who are clearly unenthused by people who are not on their TV screens yet.

Results

The Winner Team
Most delicious food
Jenny and Samira

Most Money: $1370 Reece and Sashi
Reece and Sashi both want MORE PINS! Actually they don't want, they NEED!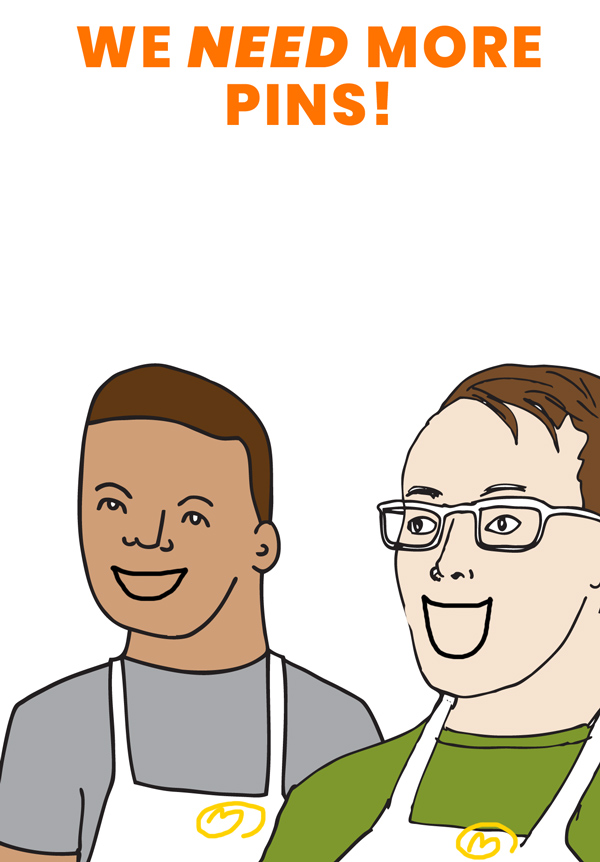 The Loser Teams:
Genene and Chloe
BLAND!

Hoda and Ben
DRY AND DENSE!

Everyone raised $7280 for the charity Second Bite.


Do you have any comments on this episode or do you just want to nerd out on Masterchef? You can leave a comment on our Instagram or Facebook page. Or if you're after some fun greeting cards, check out our online shop.