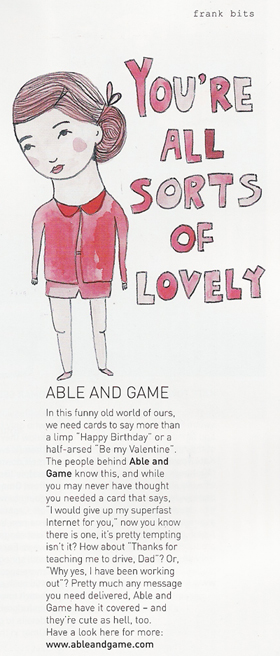 A big big thank you to
Frankie Magazine
for featuring our cards in the current issue. Gareth was on strict instruction on Saturday to get
Hollie
and I a copy and we sat and read it at the Napier after
Rose Street
. I was pretty excited to see I was on the same page as
Pulp Creative Paper
in Manly, one of our newest stockists. Tracey and Nicky who run the shop are both lovely and it makes me wish I lived in Manly. The sunshine and being able to say "
you're so manly and you're from Manly!
" to Gareth would be an added bonus.
Frankie Mag have a pretty sweet deal at the moment, if you subscribe you don't have to pay the postage and you go into the draw to win some pretty clothes from
Secret Squirrel
. I think I should do that and save Gareth having to run around Melbourne for me. Oh who am I kidding, I love him running around after me.