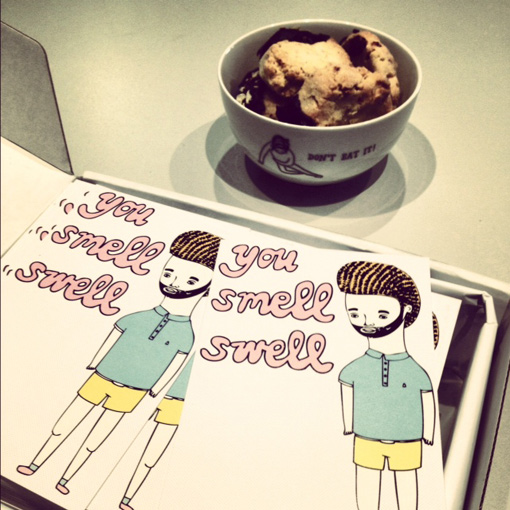 I made these
biscuit/cookies from Smitten Kitchen
last night just so I could tell people I've cooked a biscuit with potato chips inside. You can see them in the pic above, I also covered them in chocolate just because you can. I also like how in the Smitten Kitchen
image of the dough getting dipped in sugar
it looks like a potato. The world is crazy right?
Jon Hamm and Jennifer Westfeldt
on the red carpet
.
Did anyone play
Moonpatrol
as a kid? I like how you can find and play your old games from the '80s, although they are always a bit different. I remember the levels were letters and at playtime people would talk about how so and so got to level Q.
Lara from Ink and Spindle has some new
limited edition prints
and they are pretty amazing.
Yeah it is getting cold in Melbourne so everyone gets out the needles/crochet hooks. I'm the worst at it (following directions? Not going to happen) but if I could crochet a blanket like
these granny squares
I would be happy.
I know this
letter exchange
with Yarra Trams was all over The Age yesterday but I'm going to post it anyway because it made me giggle, mainly because of the cricket references. Gareth is a big one for saying he is going to write a letter (both good and bad) but rarely does.
Oh and we got new postcards,
You Smell Swell
is the newest edition to our postcard collection. It is very warm and pink, the dude has the coolest hair and he is in the esteemed yellow shorts brigade.